Why layering your blinds with curtains is a smart move
admin
Curtains are an investment, regardless of how much you spend. That's why, when you already have blinds installed and are considering adding curtains, it is important you understand all the benefits that come with layering your window dressings. Layered blinds and curtains are one of the most popular window treatment trends this year, and this customised window coverings offers many benefits no matter which area you apply it to.
Below is list of benefits we felt you need to know when considering to layer your blinds with curtains.
1. Bonus Privacy
Like most people, privacy requirements vary from person to person, general consensus is that homes are private places for people to relax and seek comfort. With this being said, privacy requirements also change consistently through the day. For example, in the morning, you may like to keep the curtains open as you drink your coffee and have breakfast, allowing the natural morning light to flood in. In the afternoon, you might prefer to have the blinds totally open with a soft sheer curtain closed over the front to maximise on the amount of natural light that comes into your home but still achieve that need for privacy. During the evenings, you may prefer the a more subdue and relaxed feel that comes from the use of your interior artificial lights, or complete privacy that a blockout curtain provides. By layering your curtains and blinds, you can achieve multiple levels of privacy and comfort all with the same window treatment.
Some of our favourite combinations include;
1. A blockout blind with a sheer curtain layered on top
2. A blockout blind with a sheer blind layered underneath
3. A blockout curtain with a sheer curtain layered on top
4. A blockout blind with a block out curtain and sheer curtain layered on top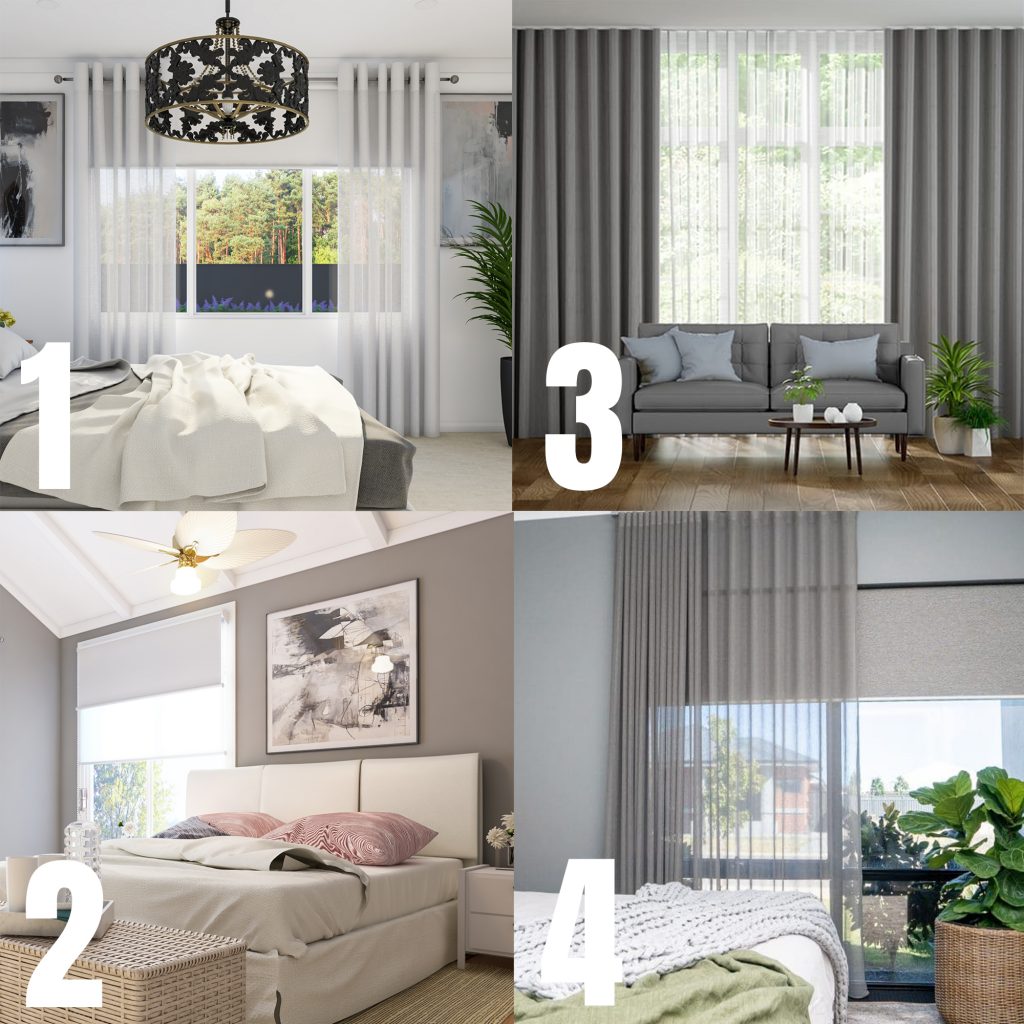 2. Save money by reducing your energy bills
With the potential to have heat loss during winter and heat gain during summer, comes the added cost of using heating and cooling equipment to make your home more comfortable.
The best way to manage this is insulation and this can be achieved without structural changes to your walls or floors. Installing readymade curtains or readymade roller blinds that provide complete coverage from the top of the window to the window sill or the floor, will help insulate your windows and prevent extra heat from coming in during the hotter seasons, and extra heat from leaving during the cooler seasons. Layering curtains and blinds are a simple step which can reduce seasonal heat exchange by almost half!
You don't need to compromise on aesthetics to take advantage of this energy-saving tip, but it's worth remembering that blockout blinds or curtains are often woven thicker and are therefore more effective in insulating your windows. If you want the insulation but don't like the look of layering block out curtains with block out blinds, try layering a sheer curtain on top of your blockout blind to achieve the desired insulation but also the right interior look.
Quick Tip!
North-facing windows have the biggest potential for heat gain so keep your layered curtains or blinds open or closed between 10am and 3pm (when the sun is at its most intense) depending on whether you want to warm your home or keep it cool.
3. The ability to control the light levels in your home
The primary benefit of any type of curtain or blind is that it allows you to cover a window and block the outside light from coming in. This is an important quality when it comes to enjoying a restful nights sleep, or preventing your furniture and flooring from fading and discolouration. Traditional blinds and curtains offer little in the way of variety when they are installed as the only window treatment; they can be opened or closed, but there is no middle ground. When you install multiple layers of window coverings, you can operate them individually to allow as little, or as much, outdoor light as you want through the windows. Achieving a completely customisable light aesthetic.