How to increase the value of your home with curtains and blinds
admin
Curtains are an investment, regardless of how much you spend. The great thing about curtains is that you're not just adding a practical solution to your home, you're increasing the value of your home! A clean, well-maintained home in tiptop condition will yield maximum profit when it comes time to sell however, you don't have to shell out the big bucks to make sure your house will sell well!
There are a number of upgrades you can do for as little as $500 that will impress potential buyers and prompt strong offers. Installing curtains and blinds is one of them. Now, you don't have to go out and pay thousands of dollars getting custom blinds and curtains made with luxury high-end fabrics to satisfy home buyers. Often, ready made options will not only function appropriately but will look great to prospective new owners. Not only do people appreciate soft-furnishings as an "added-bonus" to a new home, but it also presents the home as clean and finished, thus, giving the impression to people who walk through the house that "move-in-ready" vibe!
Below we have a few simple tips that can help you make your home more attractive to buyers using cost effective window dressings such as ready made curtains and blinds.
1. How to decide which rooms needs a curtain, and which room needs a blind?
To answer this question as simply as possible, we have broken it up into each main area of the home.
Lounge and Living
When one thinks of a lounge or living room people tend to associate this space with environmental cue associations of comfy, settled, relaxed, and soft feelings. People want to feel warm and safe, when spending time in their lounge room, and curtains are a great way to achieve this feeling. Curtains have always tended to be the more relaxed and "homey" option, making a space appear more soft and private, and therefore prove to be a more suitable choice for window dressings in this area.
Aside from the way you may want to feel in a room, curtains are also seen as being more of a decorative window dressing and are therefore chosen for lounge and living areas as it allows people to achieve a more cohesive décor or interior style.
Curtains also have the ability to make a room appear more spacious which can be ideal for lounge and living areas that are small and and enclosed. Read our blog talking about "3 ways to fool the eye into making a room look bigger".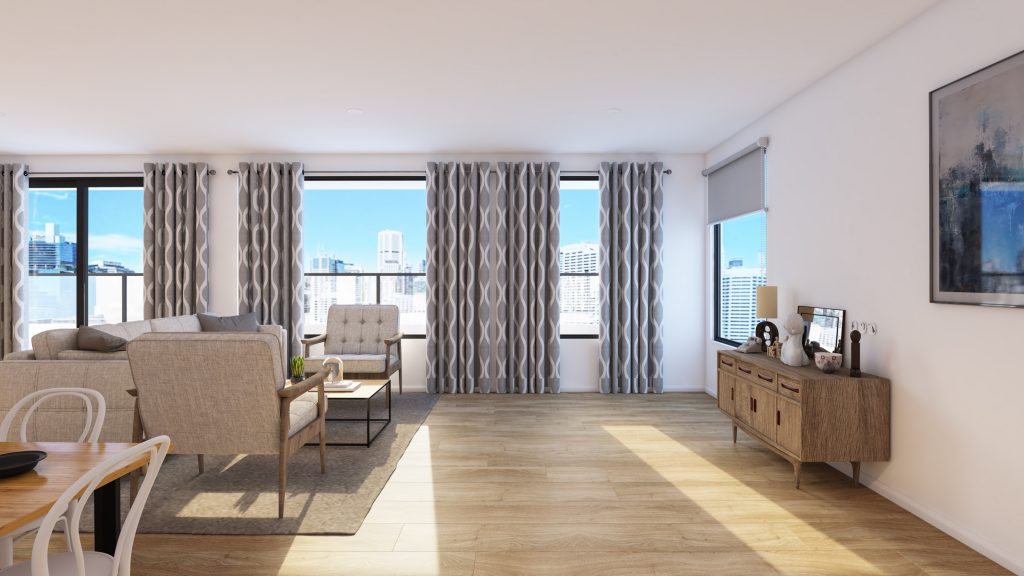 Kitchen and Bathroom
Choosing a window dressing that not only looks great, but stands up the arduous demands of the kitchen and bathroom space is essential. Blinds are a better option for these rooms as they are easier to clean if they get splashed from cooking, have contact with water or are exposed to a high volume of condensation.
Blinds are also better suited to bathroom areas at they lie flat against the window and can be easily rolled up, meaning that they take up little to no space in an area that is usually made to be smaller than other rooms in the house.
Bedroom and Home Office
The bedroom and home office are two areas that often require more privacy, however with this being said, both blinds and curtains can be a great option to achieve this. Curtains are seen as being more common in bedrooms because, similar to lounge areas, people want to feel relaxed and seek comfort when spending time in this room, therefore, curtains offer that softened feel apposed to blinds. On the other hand, blinds are also a popular choice and they take up little to no space and provide superior blocking out capabilities which is often desired for bedrooms that experience of lot of early morning sun.
Home Offices inhibit the same attributes. When people use a study they are often searching on the internet or doing private work tasks and therefore require slightly more privacy. This has become more so relevant with the increase in people working from home. Blockout blinds are a great way to fulfil this need. Aside from this, home offices also tend to reflect a more professional environment where people go to think and concentrate, therefore blinds help with achieving this "professional" styled interior and also make a great backdrop for Zoom meetings. For those that want the best of both worlds, a great look can be achieved with layering a blockout blind underneath a sheer curtain.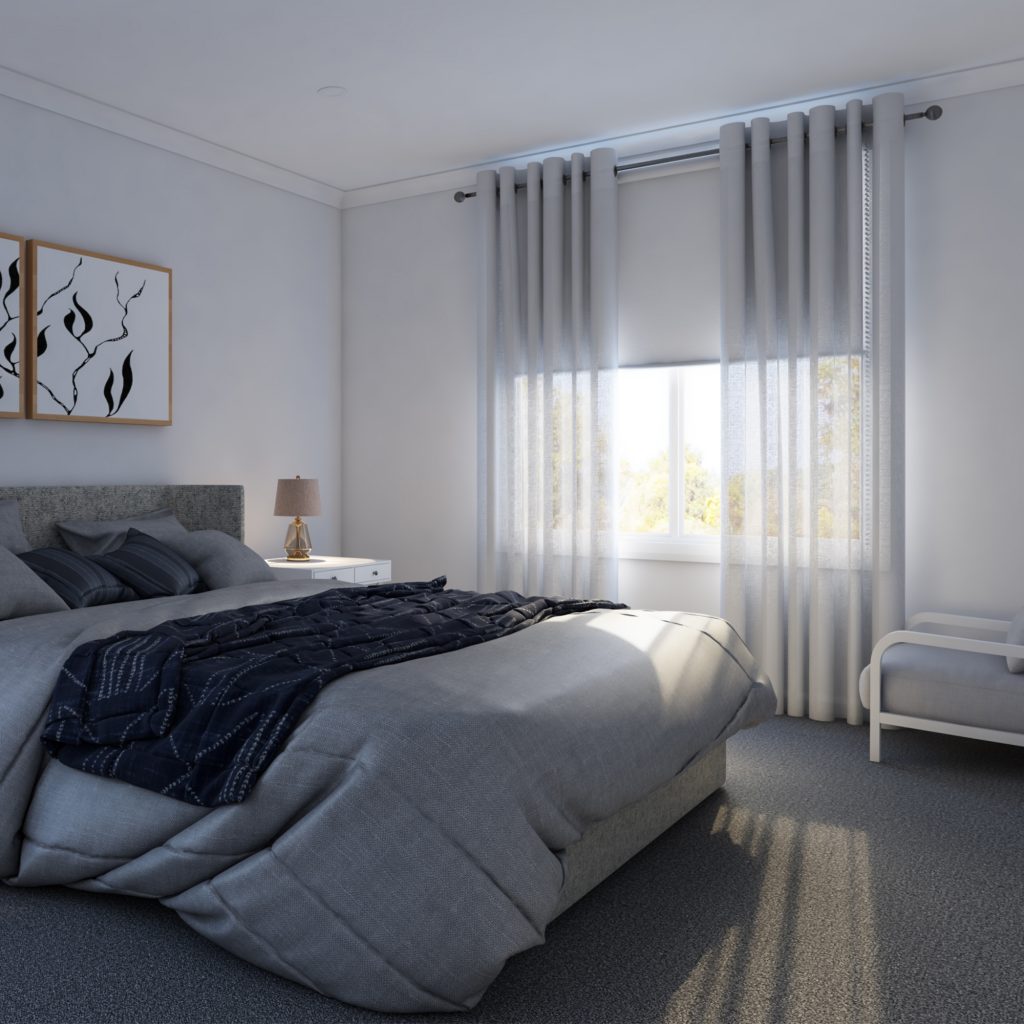 2. Always go for neutral colourways
We dont have to remind you that everyone has difference preferences for colour in their home and often people that are on the hunt for a new house will be discouraged from ones that feature strange colour themes on window furnishings as it means they will have to re-do all curtains and blinds to achieve the palette they prefer.
When you're selling your home, it's preferable that you use neutral colours throughout your styling. Neutral colours are understated which can also make a room appear more elegant. They are less likely to overwhelm potential buyers and therefore allow your buyers to see all the possibilities a room holds for them. Neutral colourways for window furnishings often give the buyer a "move-in-ready" sensation and more flexibility to make this new potential house the home the way they like it.
3. Stand out from the crowd for many crowds
When you put your home on the market you have the potential to attract many types of home buyers. Some may be first-home buyers or some may be investors looking for their next money making opportunity. It is best to try to appeal to both these audiences when prepping your home for sale.
First home buyers relish in homes that offer "move-in-ready" attributes and most of the time, first home buyers don't have a lot to spend. Therefore, they will tend to be more attracted to new build homes in new development areas. For them, the burden with doing this is, these "new build" type home often lack many of the "extras" established homes come with, such as window furnishings. You can attract more first home buyers, and get a leg up on the sellers market competition, by installing soft furnishings such as readymade curtains and blinds. Not only will this increase the value of your home, but it will attract a larger pool of potential buyers.
Investors on the other hand are playing a totally different ball game. When investors enter the buyers property market, the focus is not so much on how much the up-front cost is, but more so on the investment opportunity, that is what is going to make them more money over the long term. Therefore, homes that present more as "fixer uppers" apposed to "move-in-ready" may scare investor buyers away. Investors see homes that require make-overs and renovations as extra costs down the track, and not all of the time but most of the time, will tend to steer clear from such purchases. You can attract more investors (who often have more money to spend!) and get a leg up on the sellers market competition by installing soft furnishings such as readymade curtains and blinds. Again, this will increase the value of your home and attract a larger audience to your auction or private sale.