3 Ways to fool the eye and make a room look bigger using curtains
admin
Whether you own your home, are getting an investment property ready to rent out, or are renting yourself, the size of a room within in your home is not something you can very easily change without incurring major renovation costs. Everyone longs for the feeling of comfortableness, however if your home is far from the dream you had envisioned, do not fear! There are plentiful of ways to revolutionise your space using the art of illusion!
Many new build homes from large scale developers are often built to industry standard norms and any 'upgrades' can cost you extra money upfront. Therefore, if it is high ceilings you dream of but have grasped the idea that it is something that is not within your budget at the moment, we have the ultimate solution for.
Curtains are often the last element that is considered in new home builds, renovating plans and general home furnishing improvements, however form an integral part of a room and the energy you want it to depict. If you have a small room that you want to make look more open and spacious, then curtains are by far the easiest and cheapest way to do this. Here's how…
1. Go high or go home
Hanging your curtains higher than the window will give the illusion of higher ceilings which in turn will make the room appear as though there is more space to live and breath in. An easy way to do this is, when measuring the height of your window initially (in a standard 2.4m ceiling height) before purchasing your new curtains, go roughly 30cm above the window frame. If you would like your curtains to be higher you can continue to move them closer to the ceiling. For a more luxurious look, placing your rod directly under the ceiling skirting will give your room the illusion of floor to ceiling windows. Keeping in mind that depending on how large or high your windows are, you may have more or less space in-between the curtain rod and the top of the window frame. If this is something that you are okay with, then go high or go home because high ceilings are swiftly becoming a cult like trend in the interior design industry.
For those of you that own investment properties and are looking at renovating, this is a great way to completely change the look of a room with little to no effort or cost.
Bonus tip!
Install a rod that is wider than the width of the window. This will give the illusion of larger window space in rooms that may not have many windows.
Click here to watch our video on how to install your curtains easily and safely.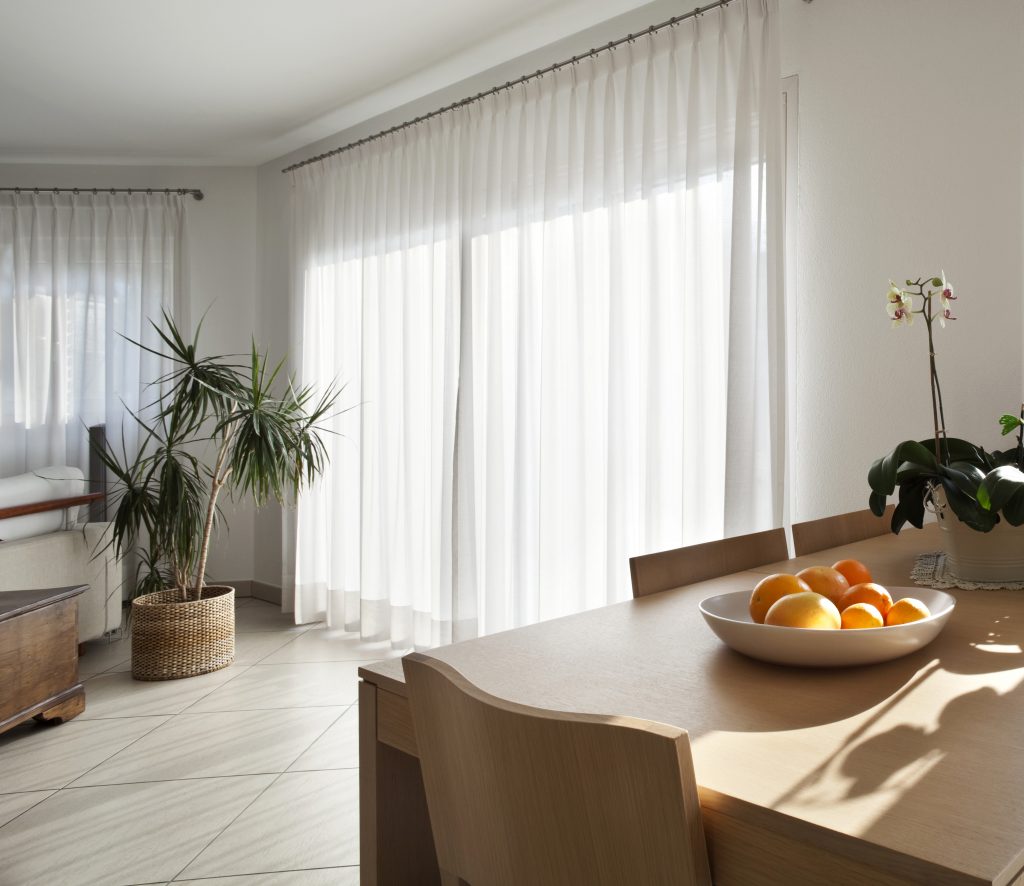 2. Go for colour but not too much
When deciding what kind of curtains to purchase for your room, you probably have these thoughts running through your head; "should I do a curtain with a print?", "should I pick pink or white?". Well did you know that light colours make a room look bigger and brighter? That's right! light and bright walls are more effective in making the space feel more open and airy. Dark colours on the other hand tend to absorb light, making a room look smaller as a result. If you already have a small room it's best to stray away from dark colours on your curtains. A better choice would be to stick with natural tones such as white, cream, tan and beige, and, if you are hoping for a pop of colour stick with small amounts of bright colour. A final component is whether your curtains should be patterned? The answer largely depends on what you prefer however, for the purpose of wanting to make your room appear bigger, stay clear of designs that are overly cluttered like floral or geometric prints. A simple pattern such as a stripe or dot will do the best for your small space.
Below are some of our top picks that you should check out if you are hoping to help make you room look bigger with curtains.
Harris Eyelet Blockout Curtain
3. Layer, layer, layer!
It's not myth that soft plump curtains make a room look more luxurious, but how does it work with making the room look more spacious? Our research shows that stacking curtains such as, pairing a blockout with a sheer will add depth of space to your room, thus making it appear larger and more inviting. When it comes to layering your curtains it's always best to ensure you get the best of both worlds, for example, a blockout behind for privacy and a sheer on top for subtle softness during the day.
Bonus tip!
For a more luxurious look you could opt for a linen or linen look sheer layered on top of your blockout curtains. This is very on-trend at the moment and definitely gives your room the wow factor with little effort. Below are some of our favourite sheer and blockout ready-mades!
Harris Eyelet Blockout Curtain